Quality Policy and Objectives
Mission Statement
Palmer Wahl Instruments, Inc. specializes in the manufacture and supply of high-quality, reliable, and safe instruments for use in the measurement of temperature and pressure.
It is the goal of the company to supply products that are fit for use and have the desired quality in accordance with our customers requirements and specification. Our customers have grown to expect the company to provide products at an optimum cost, and delivered on time. It is our mission to create superior customer value, with focused consideration of the requirements of interested parties that are relevant to the quality management system.
To achieve this goal and satisfy customer expectations, the company is totally committed to continuous improvement as well as implementing and maintaining the Quality Management System (OMS) based upon ISO9001:2015. The successful operation of the system relies upon the cooperation and involvement of personnel at all levels. Our commitment to quality ensures the continued success of our company and the satisfaction of our customers and staff.
Quality Policy
We will focus our resources, both technical and human, towards the prevention of quality deficiencies, continuous improvement of lead times, and continuously strive to meet customer's delivery needs in order to satisfy our policy of:
"Right the first time, anyone can get it right the second time"
This quality policy supports our quality objectives:
a) Continuous improvement of Lead Times.
b) Reduce customer returns for/credits.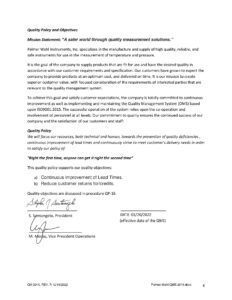 Interested Parties
| Interested Party | Requirements - What do we require of them? | Expectations - What do they expect of us? |
| --- | --- | --- |
| Employees | Require reliable attendance, applicable skills, attention to detail, and progression towards company goals. Knowledge of company goals and objectives (KPI's) and plans for how to meet them. | Safe work environment and fair compensation. Tools, materials, and facilities necessary to complete their jobs. Training on the proper usage and handling of tools, equipment, materials, or waste. Set clear, realistic goals for company wide KPI's. |
| Vendors | Clear instructions/specifications for materials delivered or services rendered when required. Competitive pricing and delivery. | Ability to accept incoming material delivery and properly inspect. Prompt and reliable processing of invoices/ payment for materials or services rendered. |
| Federal, State, and Local Regulatory Agencies - Including FDA, EPA, IRS | Specification of applicable regulations or changes to them. Availability to answer questions regarding those regulations and the requirements necessary to meet them. | Awareness and familiarity with all rules and regulations that apply to our product offering, sales orders, raw materials, shipments, and our facility. Planning and resources necessary to meet the requirements of the relevant rules and regulations. |
| Distributors | Good faith effort to offer our products to customers in their territories and markets. Receive training and education regarding our product line and applications of it. Clear purchase order instructions and prompt payment of invoices. | Competitive products, product applications, pricing, lead times, as necessary to meet the need of the end user and compete with other suppliers in the marketplace. Prompt support and assistance from customer service associates and product engineers that have experience and training on both our product line and the requirements of the applications in which they can be used. Assistance selecting an appropriate temperature or pressure measurement solution. Training on the products they offer and sales/promotional materials for products when necessary. Remuneration comensurate with their sales efforts. |
| Town of Woodfin | Town services, including water/sewer, waste pickup, fire, police, and emergency medical personnel if/when needed. | Be a "good neighbor" to other local property owners. Awareness of and adherence to town rules and requirements regarding business licensing, waste production/collection, fire protection systems,any signage necessary for emergency services to find our location, and connection points for fire fighting/water distribution. |
| Management | To provide the infrastructure, materials, tools, training, and equipment necessary to complete production safely and efficiently. Reasonable production output expectations and fair compensation. | Require reliable attendance, applicable skills, attention to detail, and progression towards company goals. |
| Customers | Detail of their application and temperature or pressure measurement requirements. Reasonable expectations of pricing and lead times that are competitive in the marketplace. Clear purchase orders and prompt payment for products or services rendered. | Quality product when promised at a fair price. Prompt and helpful customer service. Timely response to requests for quote and for Purchase Order acknowledgements. Reasonable shipping costs. Technical support and assistance as necessary to use our product correctly in their application. Instruction manuals and product specifications for reference. |