Palmer Wahl Instruments, Inc. has been a trusted supplier of industrial and process instrumentation for over 180 years.  Our knowledge and experience enables us to service companies large and small worldwide.  Let us maintain your instruments with regular calibrations.  Our factory trained service personnel can calibrate and maintain your critical instrumentation, delivering the quality performance you need and the outstanding service you demand.
Services We Offer
Our quality management system is certified to conform to ISO 9001:2015.   We maintain our calibration system in conformance with ANSI/NCSL Z-540 and MIL-STD-45662A.
All calibrations are performed against standard instruments traceable to NIST.  Records are stored for a minimum of three (3) years.
Standards used have a test ratio of four times greater than the unit being calibrated.
We can perform certified, traceable calibrations in support of companies that are required to meet FAA and FDA quality standards. Calibrations to IPTS-68 and ITS-90 are available.
We Offer Two Levels of Calibration Service to Choose From
NIST Traceable Certificate of Conformance.  If Calibration test data is required by your quality management system, the NIST Traceable Certificate of Conformance is for you.  When you purchase NIST, your unit will be provided with "as received" and "as left" test data, with any out of tolerance conditions noted.  This calibration data sheet will include

Unique test report number
Details on the standard instruments used to perform the calibration
A NIST traceable calibration label on the instrument, providing the date the instrument was calibrated, the name of the technician performing the calibration, the suggested date for the next calibration, and a reference to the unique test number shown on the calibration data sheet.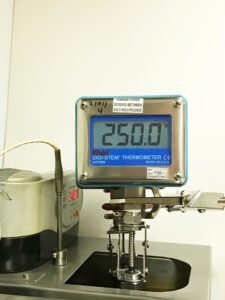 Standard Calibration.  This includes a calibration label (or tag) that confirms the unit's serial number, the date of calibration, the name of the technician who performed the calibration, and the suggested date for the next calibration.  Standard calibration is included with the purchase of a new product as necessary.